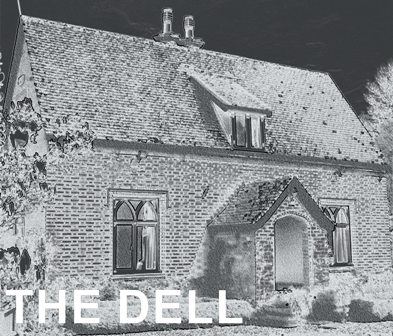 THE ROYAL GARDENS WINDSOR 1975-76
NORFOLK COLLEGE OF HORTICULTURE 1974
NORWICH CITY COUNCIL
1976 - Present
NORWICH IN BLOOM
ANGLIA IN BLOOM
RHS BRITAIN IN BLOOM
NATIONS IN BLOOM/ LIVCOM
GARDENS AND SHOWS
SHREWSBURY
PRESENTATION AND TALKS
CONTACT US AT:
At Burlingham I was taught theory in the lecture room and much practical tuition by grounds staff including a well travelled experienced gardener George Glanfield, my funds were running out, I wanted to continue learning and develop a specialist knowledge of commercial greenhouse horticulture, George told me about the student gardener scheme at The Royal Gardens Windsor, weekly paid work/training and day release to Burchetts Green Berkshire College of Agriculture and Horticulture, I applied to become a student gardener, was invited for interview, George kindly drove me to Windsor, dropped me off and visited friends, interviewed and offered a place I was delighted, I believe I was the first Norfolk student.
June to August 1975 I worked at Burlingham followed by three weeks at Colmans in their grounds.
Dad with Mum and my younger brother John drove me to Windsor in September 1975, my lodging was Windsor Hall Youth Hostel for 24 student gardeners located in the Royal Gardens next to many greenhouses, a mushroom production unit, cut flower nursery fields and massive kitchen gardens.
On my very first day I had to sign the secrets act not to reveal anything I might learn about the Royal Family who regularly visited The Royal Gardens, was introduced to the Head Gardener and staff and put on a 12 weekly rota. I really enjoyed the training, experience and learned so much about horticulture working in Victorian and modern style greenhouses growing exotic plants, pot plants, bedding plants, cut flower and commercial crops, I worked in the commercial kitchen gardens, cut flower nursery and mushroom production unit and on occasions assisted taking produce to convent garden market.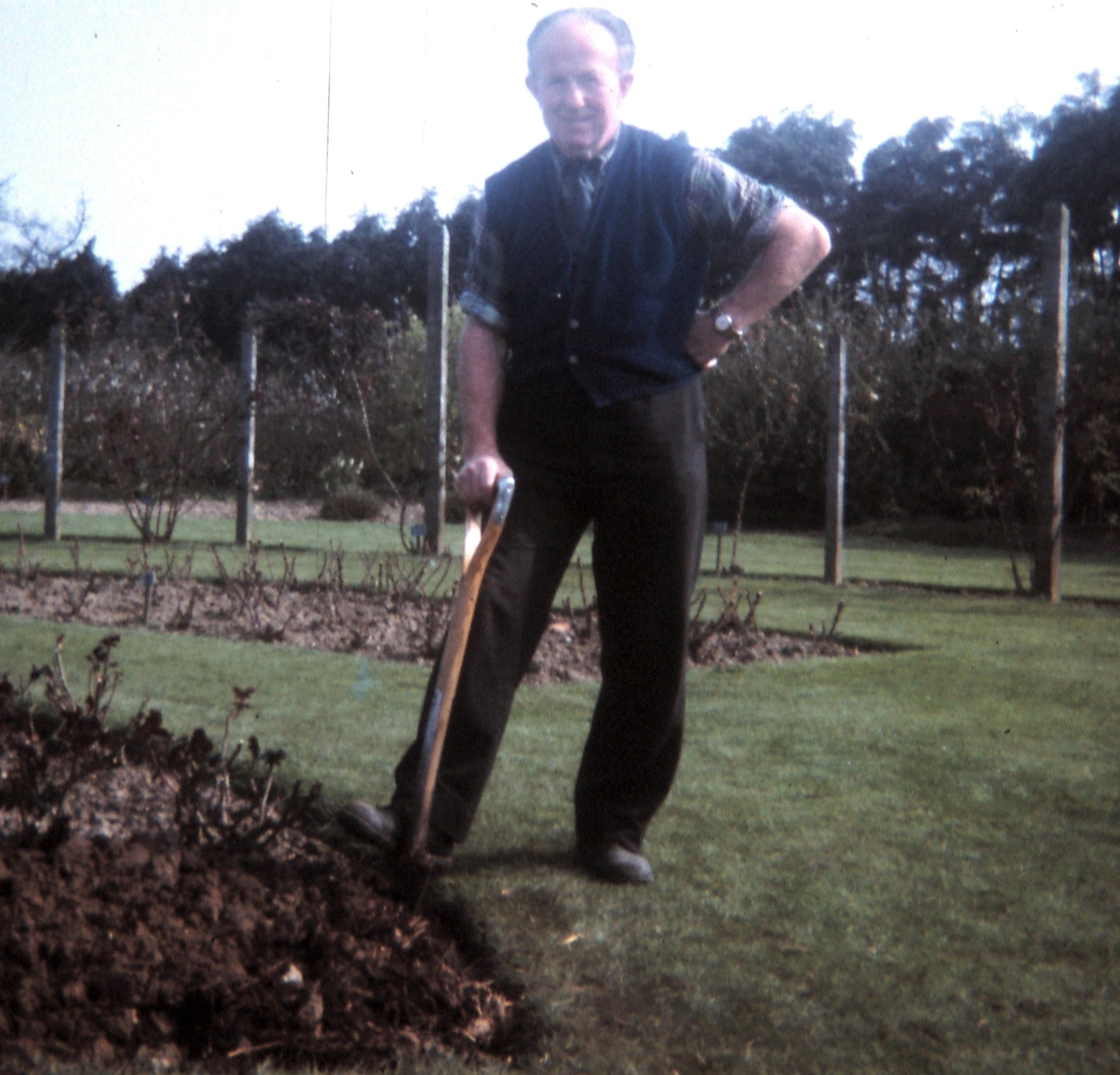 George Glanfield in Rose Garden
Burlingham March 1975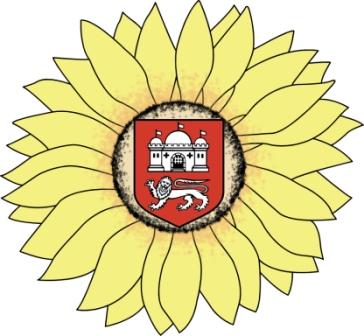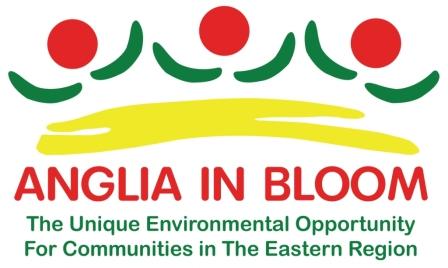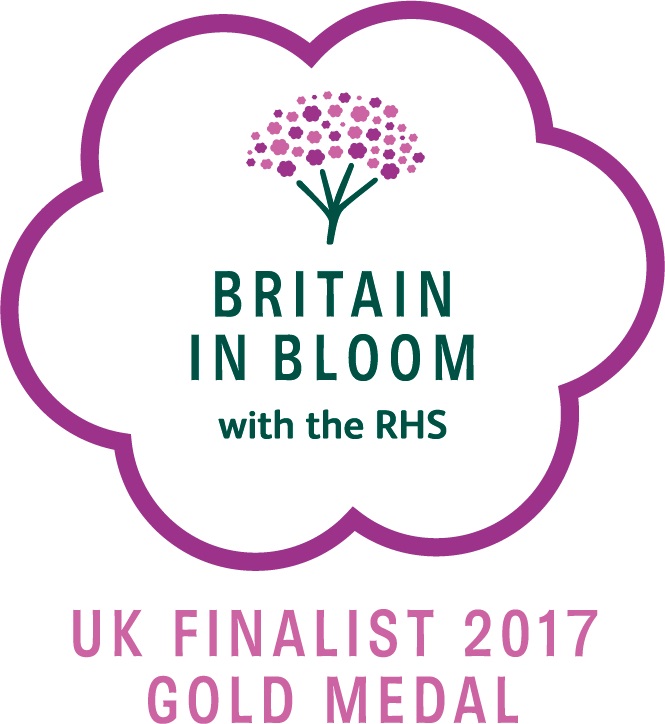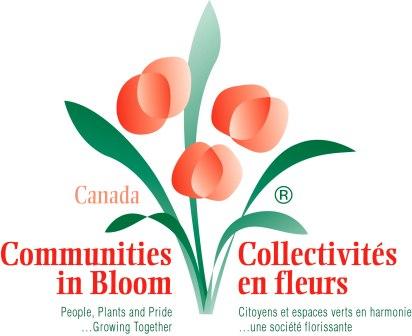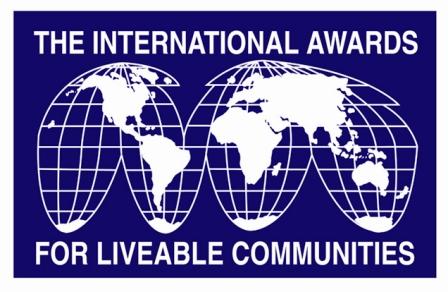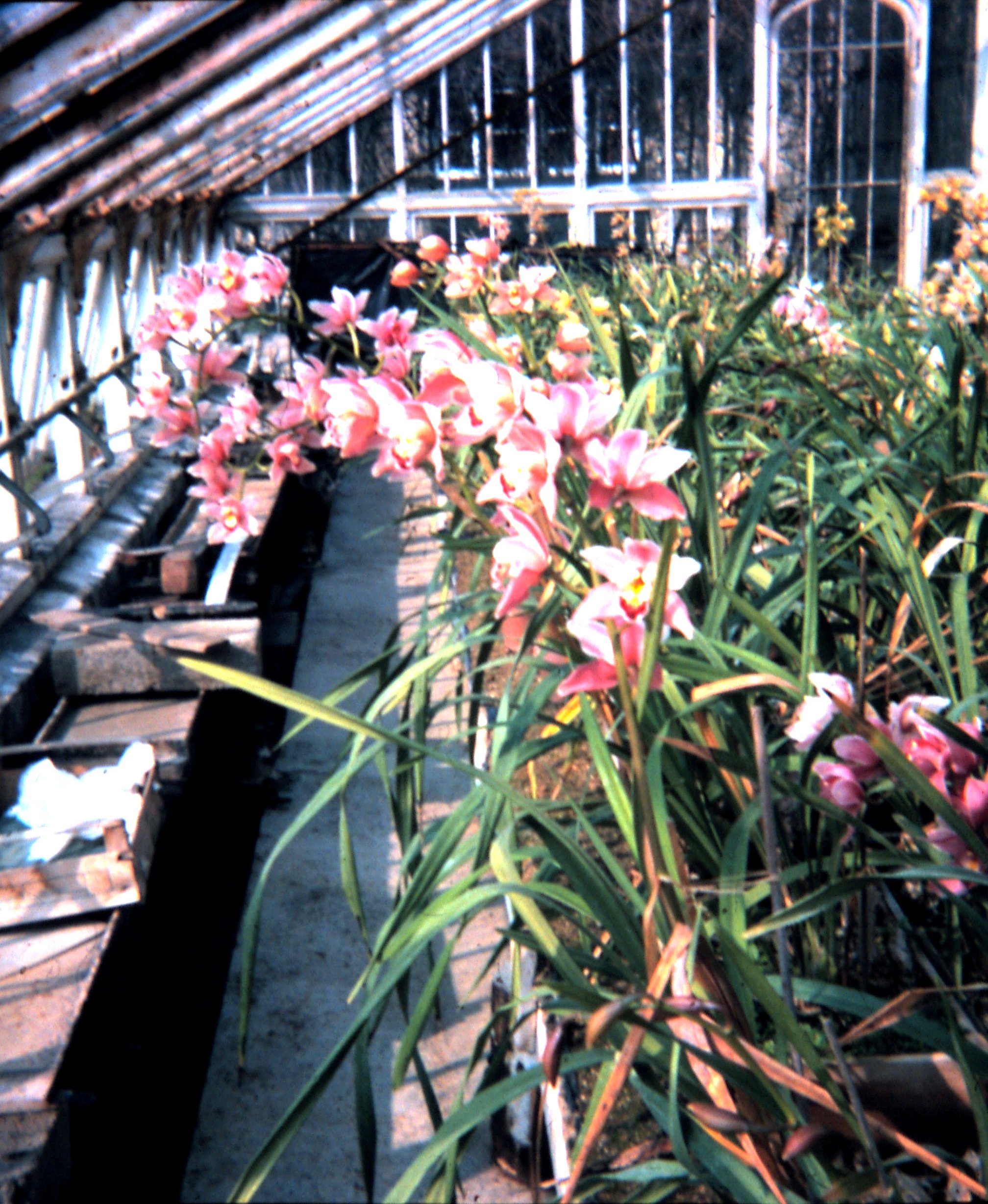 Cymbidiums Orchid House Windsor March 1976
One evening a week at Windsor Hall we had a horticultural specialist guest visitor to give a presentation, each student had to introduce the speaker, the first guest speaker I introduced was plants man, author and broadcaster Roy Lancaster CBE and Plant Hunting in the Foothills of the Himalayas, another time we had famous TV celebrity Percy Thrower who previously worked in the Royal Gardens and married Constance Cook the head gardeners daughter, I was well impressed with Percy Throwers slide show and knowledge, later in life I was amazed and impressed at Percy's Quarry and Dingle Gardens and Garden Centre Shrewsbury when I first visited in 1989.
Twice a year the mobile Landsman's Bookshop visited Windsor Hall selling specialist horticultural books, with those I purchased and others I ordered I spent much of the money I earned on reference books as I still do! 2 books I purchased and have used throughout my professional career are Plant Names Simplified and Sanders Encyclopaedia of Gardening 1895 listing plants, their origins and habitat and compost formulations suitable to grow them in, my friend John Attoe also has a copy and still uses this historic reference book, we both enjoy looking at and reviewing gardening books of great age, there is always something from the past that can be used again perhaps in a different way or for a particular purpose.
One day each week I attended the Berkshire College of Agriculture and Horticulture at Burchetts Green, near Maidenhead, working in The Royal Gardens at Windsor and day release was a great way to learn and earn at the same time as well as a great personal honour to work for Her Majesty Queen Elizabeth II.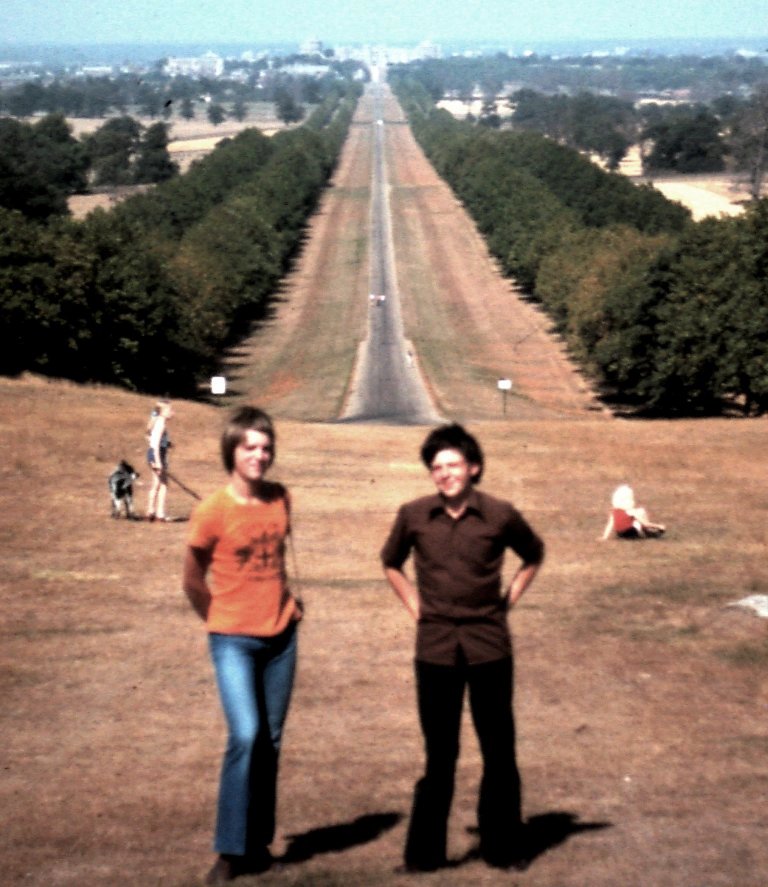 Student Friends Willem Leenan and Andrew Collins
The Long Walk leading to Windsor Castle 1976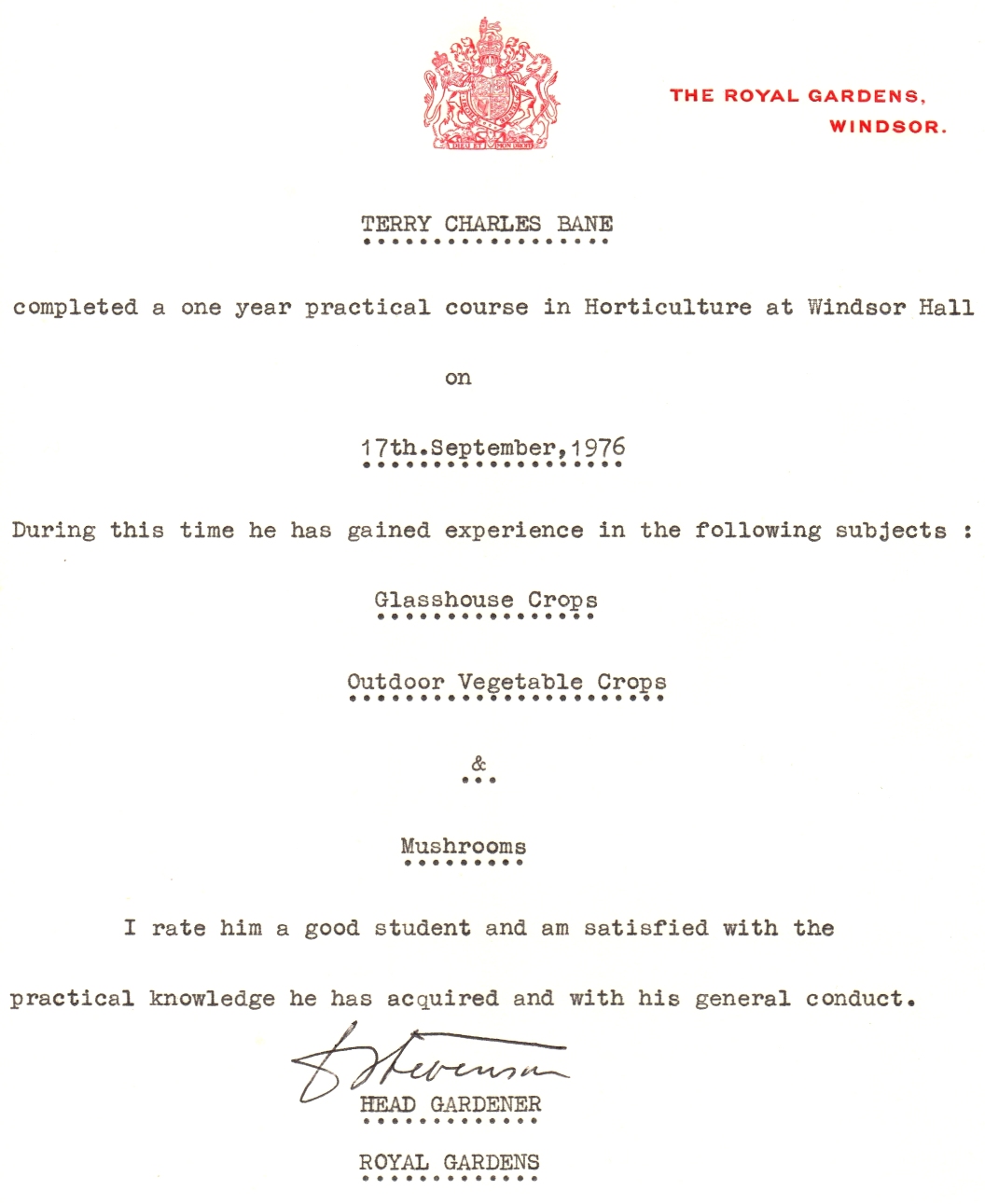 Royal Gardens Windsor Certificate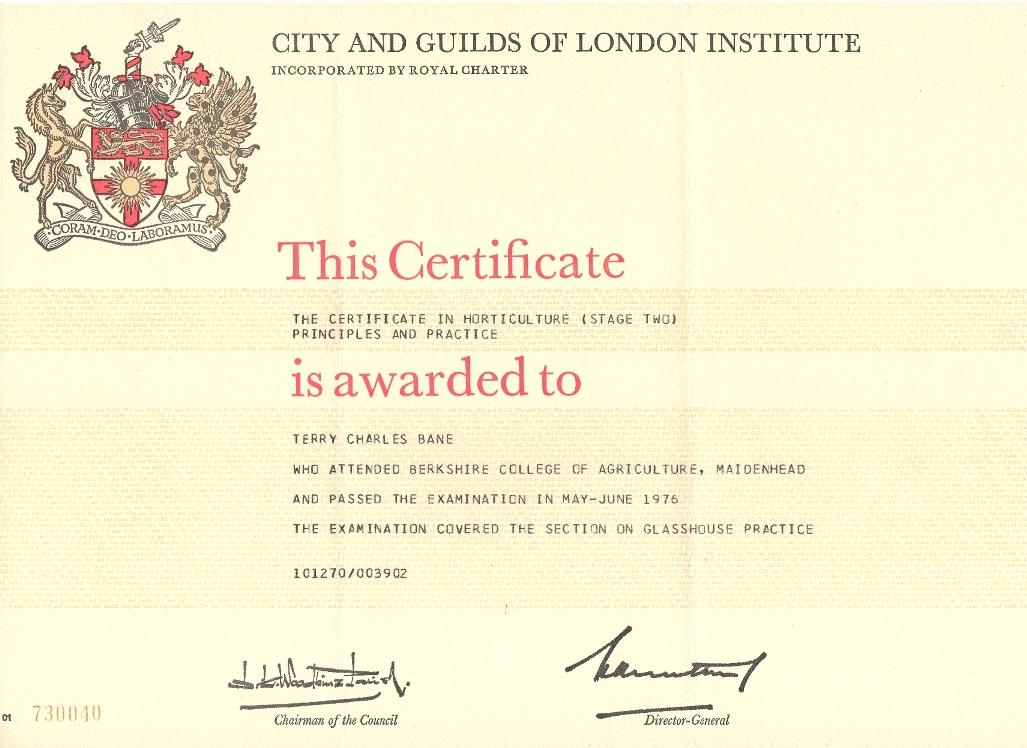 City and Guilds Stage Ii Horticulture Certificate
The 12 week rota included a week working in the Mushroom production unit and a week collecting horse manure from many stables and mews in and around Windsor, it was really hard work and one that many students became suddenly sick during their rota week!, a replacement was called for, I was very popular in the Mushroom yard perhaps because of my size and strength as a young man and so was always called for by Foreman Tom Gilbreith and assistant Ken Baily, Ken called me "Norfolk" and Terry, I also enjoyed a social life with the Mushroom Team during some evenings playing for the 8 man Darts Match Team.
I enjoyed my student apprenticeship at Windsor, seeing and having hands on practical training and learning so much about commercial and greenhouse horticulture at Burchetts Green, I learned social and life skills and made many good friends who I stayed in contact with for many years.
At Burlingham I had gained my City and Guilds Commercial Horticulture stage I and RHS General Examination Certificate and at Windsor I gained my City and Guilds Commercial Horticulture stage II, I also gained an English Language O level attending evening classes - I was missing my home life and after completing my exams and training decided not to go on for more higher level horticultural education but to earn some money so I could keep up with my brothers who all had cars, motor bikes and a social life - so I came home to Norfolk to get a job.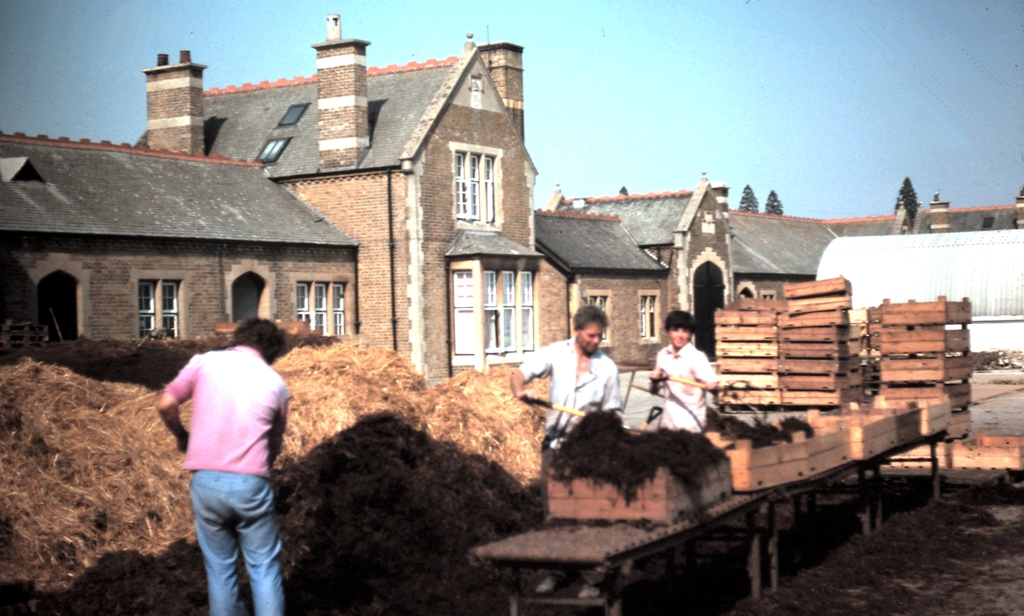 Ken Baily, Tom Gilbrieth and Student Andrew Collins
Filling Mushroom Growing Trays Windsor May 1976