NORFOLK COLLEGE OF HORTICULTURE 1974
THE ROYAL GARDENS WINDSOR 1975
NORWICH CITY COUNCIL
1976 - Present
EARLHAM PARK NURSERY 1977 - 1990
NORWICH IN BLOOM
ANGLIA IN BLOOM
RHS BRITAIN IN BLOOM
NATIONS IN BLOOM/ LIVCOM
B.A.S.I.S. TRAINING
HARPER ADAMS UNIVERSITY COLLEGE
GARDENS AND SHOWS
SHREWSBURY
PRESENTATION AND TALKS
CONTACT US AT: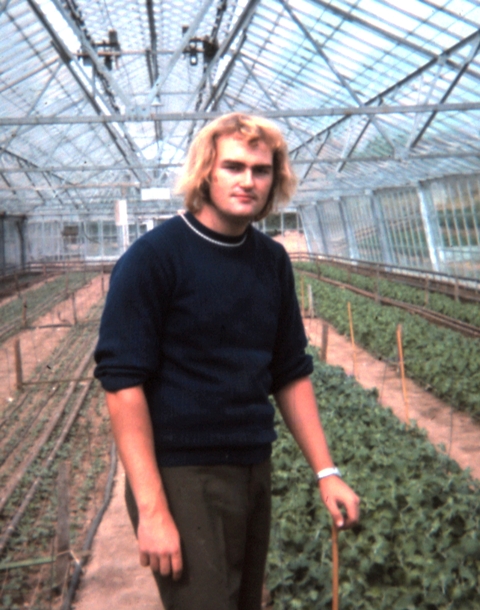 Terry Bane at Norfolk College of Horticulture, Burlingham summer 1975
At Acle Secondary Modern I met and befriended twins Gary and Simon Mutten and Philip Edridge we were in the same class although I was nearly 10 months older, we all enjoyed growing vegetables on the school allotment plots and attended a day release trial to the Norfolk College of Horticulture at Burlingham to see if we would like to consider a career in horticulture, when we left school, all four of us signed up.
I took my last C.S.E. exam late May 1974 and next day at work all summer until September at Lingwood saw mill, it was a very noisy 47 hour intensive labour week butl helped me generate enough funds and with my mums help got me through my first year as a full time student of horticulture as I received no income.
I had few precious text books, next door neighbours John and Ray very kindly purchased and presented to me a set of Readers Digest Horticultural Encyclopaedias, I still have in my horticultural library and use.
Gary, Simon, Philip and myself started college training in September 1974, as students we lived away from home staying 5 nights a week at Shields Court, Brundall with 16 other students, 4 students per room.
We all completed our full time training as students and passed our City and Guilds stage I in horticulture, I was just old enough to take and passed a RHS General Certificate in horticulture exam, I really enjoyed my 10 months of horticultural training, the people I met and activities including playing football both 11 and 5 a side, unfortunately we lost most matches! - I wanted to learn more about horticulture but funds depleted.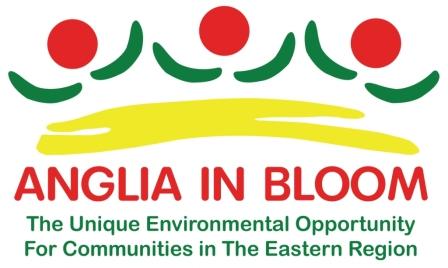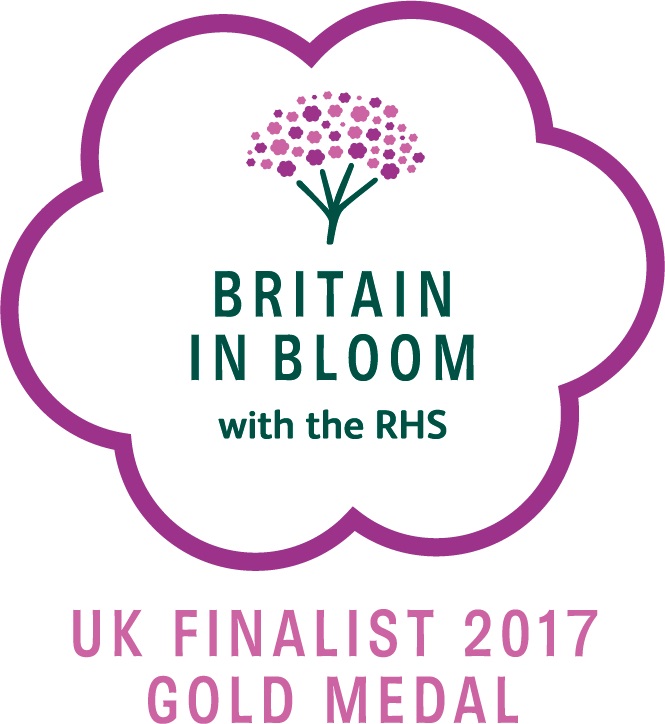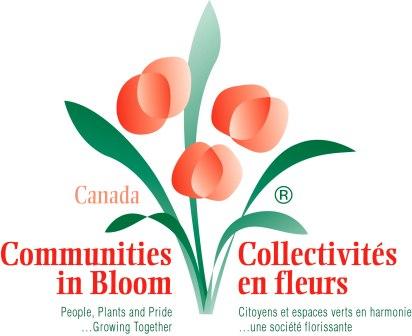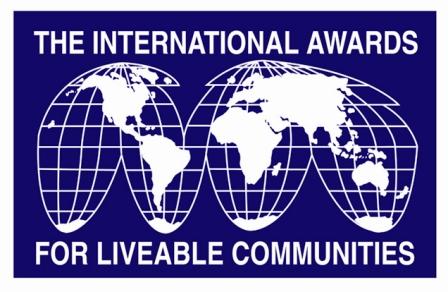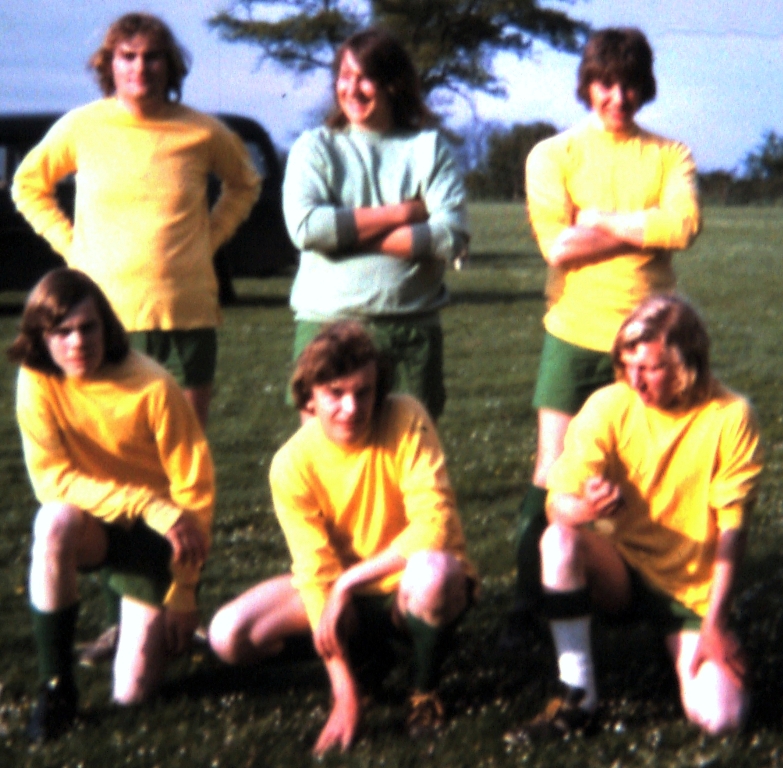 Terry back row left Captain of the Burlingham Football Team 1975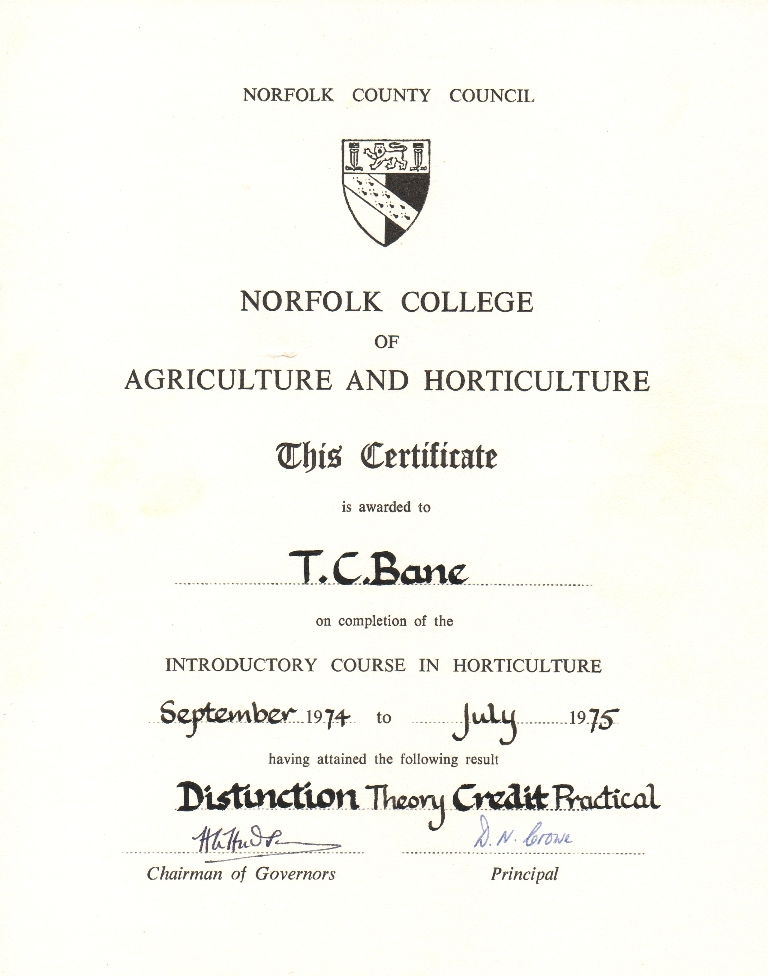 Norfolk College of Horticulture Certificate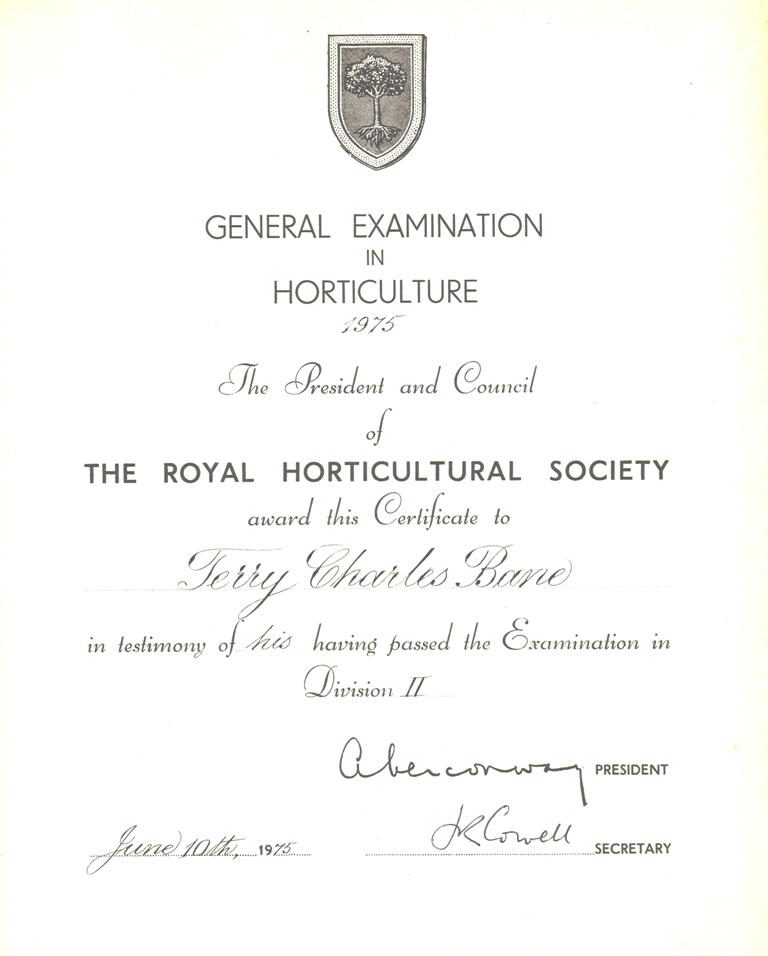 RHS General Exam Horticulture Certificate